Beaches and coves of the Costa Brava
Its beauty has been recognized internationally in many occasions and its value as a tourist destination has grown to be at the top of the world rankings. This is the Costa Brava, called "Creative Coast of Spain" by the prestigious magazine National Geographic Traveler, being home to one of the most eccentric artists of all times: Salvador Dalí.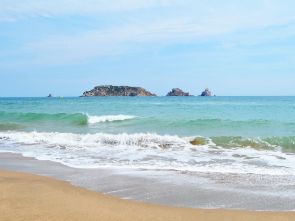 Platja Gran of l'Estartit
The main beach of l'Estartit, the 'big beach', is an extensive beach of 3.5km of thin sand. This beach is the façade of the village overseeing the sea, from the harbour to the Pletera area, and it offers all the necessary services for families, such as baby changing facilities, lifeguard and first aid services, water activities, sunbed rentals, car park, bars… Additionally, the Platja Gran has spectacular views of the Medes Islands!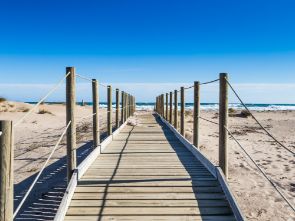 Platja de la Pletera
The Platja de la Pletera (Pletera beach) is ideal if you are looking for tranquillity. This area is the southern extension of the Platja Gran, towards Pals, and therefore, it is also a thin sand wide beach. Because the wind blows bravely in this area, this beach is chosen by the kitesurfing lovers, as well as other water sports such as windsurf. This beach is perfectly integrated within the Montgrí, Medes Islands and Baix Ter Natural Park. You will be able to see dunes and to follow the Natural Park itineraries to reach the river Ter mouth.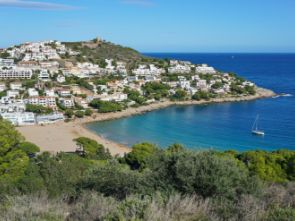 Cala Montgó
Located between l'Escala and Torreolla de Montgrí, we encounter this cove of thin sand, ideal to go to with kids, as it offers many services: showers, public toilets, sundbeds and pedal boat rentals, bars, and it wheelchair accessible. If you like snorkelling, its caves will captivate you!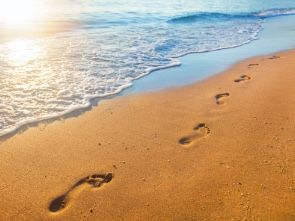 Platja de Mas Pinell
2km of extensive and wild beach, located at around 13km from l'Estartit. It is comprised between the river Ter mouth and the Mas Pinell residential area. Only about 60% of its length is inhabited, making it a calm beach from which you will be able to contemplate the Medes Islands.
This beach has some services, including lifeguard, public toilets, and water sports equipment rentals, such as kayaks, windsurf…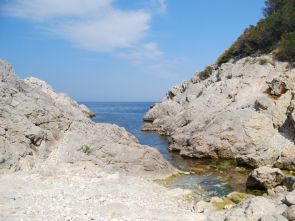 Cala Pedrosa
One of the most beautiful coves in l'Estartit. It is small (10x15m) and rocky, and it is protected from the sea blows by the Pedrosa island, allowing the cove to have a spectacular seabed. You will have to walk 2.8km through the GR92 path to get there, towards l'Escala. The path is not recommendable for small children.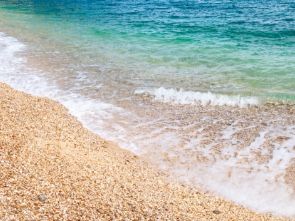 Cala Ferriol
Further away from Cala Pedosa, we find this beautiful and unspoilt rocky cove. Cala Ferriol is flanked by two small islands, surrounded by crystalline waters.